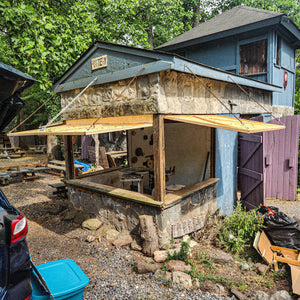 I bought a building!!!
I am so excited to share with you all that Ironworks Pottery will be expanding in the fall! With the help of you all, my family, and my partner - I have purchased a building at the Pennsylvania Renaissance Festival! Beginning in the 2023 season I will be the resident potter of the faire!
I hope you will join me on this journey, and I can't wait to see what comes next. <3
Ironworks Pottery
Step right up, step right up, take a look at the one woman freakshow of Ironworks Pottery. Birthed in Meg's underground laboratory this woman is preserving a craft as old as time itself! Gaze in awe at wheel thrown pottery inspired by cult classics and alternative culture! She's got pots for all ages; swooping tentacles, wrought iron elements, hand drawn designs, all covered with glazes, concocted in house, that will have you trembling! Don't miss out on this opportunity to make your life a little weirder.
Find her vending at the Pennsylvania Renaissance Festival beginning August 19th 2023!